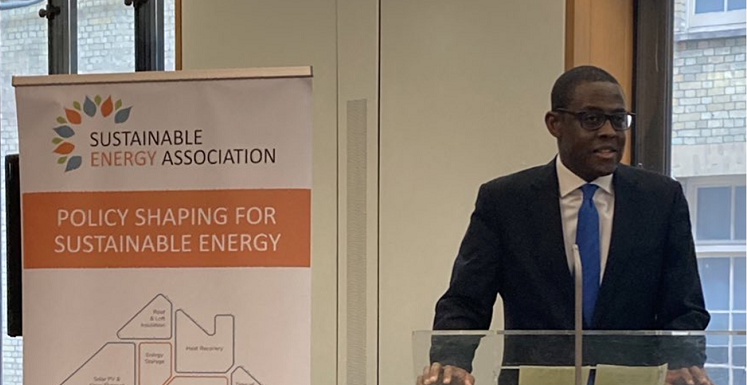 The government's new Department of Energy Security and Net Zero this week welcomed a holistic approach to debcarbonising buildings. ECA, along with partners The Sustainable Energy Association and other industry bodies, launched The Technology Agnostic Approach to Heat and Buildings in the Houses of Parliament.
Hosting the event was MP Bim Afolami, who commented:
"The … report emphasises the need for flexible, low carbon and smart technologies to be at the centre of home heat solutions. Our built environment is historically complex and diverse, so a range of interventions are needed across the domestic heat market.
"This report sets out the need for a variety of data-driven, market-led and bottom-up approaches to decarbonise construction, diversify supply, promote cost-efficiency and support delivery. The contributors to this report have done the legwork to demonstrate how this can be achieved in line with our mission to reach Net Zero by 2050."
A diverse range of low-carbon technologies is crucial to delivering Net Zero. Previous policies which championed one technology over others, have created a boom-and-bust market, which has slowed the take up of these products and damaged consumer trust.
Steve Bratt, ECA's Group Chief Executive Officer said:
"This report highlights the importance of using all the tools at our disposal to reach the target of net zero. I am pleased that it recognises the importance of safe, compliant and competently installed equipment in meeting consumers' needs."
The report covers:
Accelerated Route to Net-Zero Buildings: How technology agnosticism will target and channel investments into a variety of low-carbon technologies for decarbonising buildings at an accelerated rate, whilst maximising the benefits of healthy and cost-effective buildings.
Flexible and Smart Building Energy Systems: How this approach emphasises the installation of smart and flexible technologies to reduce the costs associated with operating buildings as they become low carbon.
Effective Consumer Education and Engagement: How an outcomes-based approach to heat decarbonisation is more appropriate to what, where, and how low-carbon technologies are put forward and installed in buildings. This marries up consumer desires with effective solutions.
High Quality Skills and Clear Local and National Planning: How a more agnostic approach deploying tailored solutions uses relevant skills at a local level; primarily driven by bottom-up, evidence-based, building-level decision making that target outcomes over a one-size-fits-all approach.
Stimulating Manufacturing, Supply Chains and Innovation: How this approach will stimulate the market and grow capacity for Net Zero. As the investment landscape takes on a more concrete form, with clear pathways for industry to supply demand, manufacturing capabilities, product investment, and supply chain diversity and resilience will grow, benefitting the UK's low-carbon economy.
You can read the full report here.
ECA works closely with its Members, industry partners and Government to help Britain transition to Net Zero Carbon. We produce regular guidance notes, technical bulletins, and industry updates to keep Members at the forefront of the Net Zero transition. Learn more here.
Last updated 23 February 23